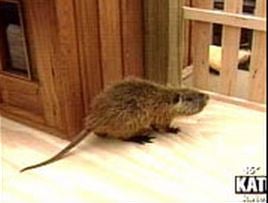 (Don't forget to look at my retreat photos from yesterday's post.)
Well, no self respecting Cajun would listen to a groundhog, but Pierre the Nutria says we will not have 6 more weeks of Yankee winter!
Pierre C. Shadeaux
predicts a long and wonderful Louisiana Spring. It was quite foggy when he woke up this morning!
My cousin and her hubby are visiting from Illinois and flying back to Chicago today. Maybe. Her neighbor told them there was 10 feet of snow in their driveway after the snow plow came through. Give me hurricanes any day! LOL.
Her daughters are the smart ones, one lives in Florida, the other in Hawaii. Go figure.
I enjoyed seeing them. People kept stopping by our table and marveling at the fact we all look so much alike! One face, yep, our family has just one face! Karen hopefully will send me the picture Jim took.
While I was at the retreat, I received my Louisiana Traveling Quilt! I was so excited I tore into the box before I even got halfway in the door! I have to show it at the Modern guild tonight so I will show some photos tomorrow.
I hope the other two participants (Pat and Kelly) got theirs and we can exude love for our fabulous quilts! And make eeryone else jealous! You know they will be!